We are back for May's Employee Spotlight. This month we are featuring our Office Administrator out of the Bellevue office, Gayle Saunders!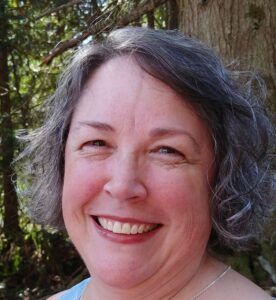 Marketing: Hi Gayle! Can you tell us about your background and what you do for BCI?
Gayle: I'm the (new) Office Administrator for BCI. I take care of all the supply ordering, supporting all US offices with any administrative needs, help organize and host the BCI Engagement activities (all those emails are from me!
), and generally support Tori Jian, my manager, wherever necessary. My background is in all things administrative, from being an Executive Assistant to the COO of a juice company to being a Receptionist, Legal Secretary, A/P & A//R Clerk, and of course, a Mom.
Marketing: Yes! I, for one, LOVE those emails. And Happy (early) Mother's Day! I know you are new to BCI, but what is your favorite thing about working at Beyondsoft?
Gayle: Because I began my job here during Covid, I've only met people over Teams and Zoom, but I must say that this is the most welcome I've ever felt in any company. Everyone has been so kind, incredibly helpful, and just fun to interact with. The diversity of employees, their cultures, and how Beyondsoft acknowledges and celebrates them is very appealing. I can't wait to meet people in person in the office.
Marketing: We have a great team! What do you like to do on your days off?
Gayle: I love being at the beach; it helps that my Mom lives on one! I also like to hang out with my daughter, explore the San Juan Islands, watch the Great British Baking Show and Nailed It!, and read! I also love to cater parties with my BFF. We work very well in the kitchen together.
What is the last book you read? Echo by Michael C. Grumley, it's the 6th in a series. I love mysteries, thrillers, novels, historical WWII fiction set in Europe, fantasy, and some sci-fi.
Marketing: What are three things on your bucket list?
Gayle: To take my daughter to Europe, visit Australia & New Zealand, and ride in a hot air balloon.
Marketing: Those all sound fun! You'll have to be sure and send pictures of all of your adventures if you get the chance to go! Where is the best place you've traveled?
Gayle: I've been to Europe three times, and I love it. I think my favorite place in Scotland because it's gorgeous, the accent is one I could listen to all day, and it's similar in weather to WA. It was also very friendly. Not to mention I love tea and scones!
Marketing: With Covid, it feels like everyone has exhausted their shows, and we are always looking for something new in the queue. Tell us you have some great shows you recommend?!
Gayle: These three series on Netflix: Shadow & Bones, Lucifer, and Lock & Key, as well as the movie Raising Dion on Netflix, and on Amazon Prime the movies The Peanut Butter Falcon and Troop Zero (it is NOT what you think it will be, give it a chance!)
Marketing: I love it. I'll be adding those to my list ASAP. Okay, last question … what is your biggest goal for the rest of 2021?
Gayle: To work inside an office again, preferably without masks!
Marketing: Ahh! I think we can all agree that's the dream. Thank you again for joining us. It's great to put a face (and movie preference) behind the emails!