We are back for June's Employee Spotlight. This month we are featuring Emily Lewis, a Test Engineer out of the Vancouver office!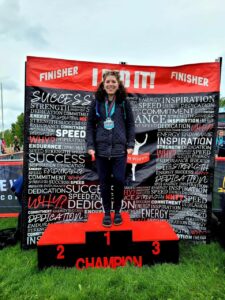 Marketing:
Hi, Emily! Thanks for taking the time to let us learn a bit more about you. Can you tell us about your role at Beyondsoft?
Emily:
I've been with Beyondsoft for 3 years. My current roles are conducting simulated distribution and customer "end-user" experiences in a controlled, repeatable ways to ensure products meet regulatory and customer benchmarks in both the auditory & hardware realms.
Marketing:
What do you like most about your job?
Emily:
My favorite thing about my current role is that I get to do a lot of hands-on testing and really learn how to capture good and useful data that R&D teams can use to further the design of products.
Marketing:
Useful data is gold for companies, that's for sure! Before working at Beyondsoft, what was the most unusual or interesting job you've ever had?
Emily:
Before working at Beyondsoft, the most unusual job I ever had was when I worked at a nickel arcade as a game room attendant. Little did I know that learning how to debug arcade games and fixing machine jams would help create a basic skill set valuable in my current position.
Marketing:
What would you do for a career if you weren't doing this?
Emily:
Hmm, this is a hard question, but the last few years I've been revamping old furniture in my off time. It has been a fun side project, as well as a great reminder that sometimes a fresh perspective (or a good sanding & a fresh coat of paint) can really brighten things up. I think maybe I'd try to do something with that.
Marketing:
That sounds so cool. You'll have to share some projects you've completed! So, you are into furniture restoration. What is another fun fact about you that most people may not know?
Emily:
During the pandemic lock-down I decided to start running, which has led me to complete my first duathlon a few weeks ago and currently I'm training to run a half-marathon.
Marketing:
Personally, I'm a big vacation runner. I love seeing my destination from the streets. It's always a different perspective. What is your favorite place in the world?
Emily:
Probably somewhere quiet and out in nature.
Marketing:
That sounds nice. What is your motto or personal mantra? And what advice would you give a younger you?
Emily:
My mantra is "Fear nothing. Embrace everything." And I'd tell younger me to just keep going. Everything works out in the end.
Marketing:
If you could meet anyone in the world, dead or alive, who would it be and why?
Emily:
I would love to meet Ram Dass. As someone who really enjoys the practice of mindfulness & meditation, I find that his lectures are insightful.
Marketing:
What is the one thing you can't live without?
Emily:
Hmm. . .honestly, I don't know. Sure, there are physical objects that I wouldn't want to live without because they are comfort items, but things I couldn't really live without are not objects.
Marketing:
Recommendation time. Is there anything you are currently loving and want to share? This can be a podcast, book, tv show, music, activity … you name it!
Emily:
I'm a fan of "The Dollop" podcast.
Marketing: Thanks for letting us get to know you, Emily!