We are back again with our Employee Spotlight. For those of you new to this, we choose a Beyondsoft employee and ask them questions about their role in the company, as well as a few "just for fun" questions, so our readers get the chance to learn more about the incredible people who make up our team. This month, we are featuring a member from our Costa Rica subsidiary, BeyondExpect. Meet Antonio Briceno Bonilla.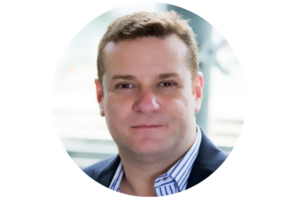 Tell us a little bit about yourself, your background and what you do at BeyondExpect.
I was born in San José, Costa Rica, have lived in Costa Rica, Chile, Uruguay, Spain and the United States.I love reading about history, politics, and current events. I enjoy power walking and outdoors activities. I have 20 years of experience in the services and consulting industry; I've held leadership positions inHewlett Packard Enterprise, Fiserv, Thomson Reuters. My role at BeyondExpect has two hats. I am the Senior Service Delivery Manager of several groups in Costa Rica and Asia that form part of the World Wide Learning Service Desk organization. We support the Microsoft Enterprise Skilling Initiative in partnership with different teams. I am also the Country Manager of BeyondExpect in Costa Rica.
What are you hoping to accomplish within BeyondExpect in the next year?
We hope to expand our client base, develop a best in class organization, work closely with our team to develop an excellent work environment, promote Beyondsoft as a great company to work for and do business with, and establish strategic alliances with potential partners.
How have you enjoyed working with the company so far?
Loved every minute of it!
What does the company plan to bring to the current market?
Consulting services that far out reach those of our competitors. We bring forward innovative solutions that will address client needs and exceed their expectations. We are already working with clients through our Recruiting services, and want to expand into BPO, Staffing, IT Consulting, and of course support our Beyondsoft colleagues who are interested in doing business in Costa Rica.
What is something about Costa Rica that you'd like to share with US readers?
Costa Rica is much more than beautiful beaches and gourmet coffee. It is a global hub that serves thousands of companies across diverse industries offering  highly rated services. It has a first rate educational system and a talent base composed by many well prepared and experienced professionals.
What advice would you give to recent new hires?
Never stop learning, ask as many questions as you need to ask, partner with your colleagues and be very collaborative, develop a deep rooted commitment to deliver your work with high quality standards and always listen to feedback.
What does true leadership mean to you?
It means serving others, identifying talent and nurturing it, establishing relationships that can grow with clients, employees and stakeholders. It means learning from your mistakes, never yielding to pride and working side by side with your team. Leaders embrace change and challenges, and help others get through difficulties through guidance and partnership.
If you could time travel, where and when would you go? Why?
I would go back to the day I was born, and thank my parents for everything.
What would be the title of your autobiography?
My Open Book.
Recommendation time: Is there anything you are currently loving and want to share? This can be a podcast, book, tv show, music, activity … you name it!
I enjoy listening to music very much, and I also like to dance Salsa. Right now I am reading the autobiography of Winston Churchill.
Thanks for letting us get to know more about you, Antonio!  
To read more of our Employee Spotlights click here.