Welcome back for September's Employee Spotlight. For those of you new to this, we choose a Beyondsoft employee and ask them questions about their role in the company, as well as a few "just for fun" questions, so our readers get the chance to learn more about the incredible people who make up our team. This month, we are featuring another member from our Southeast Asia subsidiary. Meet Foo Ngai Hang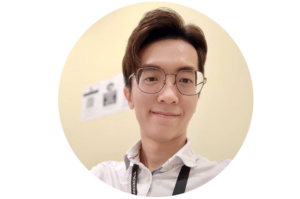 Introduction of yourself
Hi, my name is Foo Ngai Hang, but usually my colleagues will call me Foo. I've been  working in HR recruitment field for more than 3 years. During these few years, I  enjoyed working in this HR field with an excellent record of identifying and placing  superior job candidates. I'm so grateful to be selected as one of the employees based  in Malaysia for conducting this employee interview.
Marketing: Hi thanks for agreeing to be this month's spotlight! How long have you  been with Beyondsoft? What does your role entail? 
Answer: I've been working with Beyondsoft as a Talent Acquisition Executive for  more than 2 years since August 2020. As a part of Talent Acquisition team, I'm  responsible for identifying, acquiring, assessing, and hiring candidates to fill up open  positions within a company. I'm also responsible for developing employer branding  and communicating a clear brand to potential candidates. In addition to that,  candidate life cycle will need to manage by our team, from the initial application  through the final job offer. 
Marketing: What do you like most about your job? Is there a unique (or fun)  project you've been working on that you can talk about? 
Answer: Working as a Talent Acquisition has allowed me to enrich the lives of my  candidates; directly as well as indirectly. If we consider the impact I have made on  my candidates, maybe it's more money, maybe it's an opportunity for them for them  to have more responsibility at work. The candidates are better suited, and they give  back to the world, their community, and their families.
I've been involved in various type of internal projects with Beyondsoft, mainly on IT  role openings related. The most unique tasks that I can talk about is I'm able to  interact with people in different locations such as Indonesia, Philippines etc., not  limited to Malaysia. 
Marketing: We can't wait to see what you have up your sleeves! What advice  would you give to recent new hires?
Answer: I would like to advise new hires to get to know their coworkers in order to  integrate with their new work environment. In the first few weeks, the new hires  should spend more time with their colleagues, both during working hours and during  breaks. Having relationships with coworkers can also ensure them have a few people  can talk to when they need assistance. Moreover, new hires are encouraged to ask a  lot of questions and create a culture where helping each other with these questions.  Asking question can helps to clarity expectations and also accelerates the learning  process so we can start seeing value earlier from the new hires. 
Marketing: Do you work in-office or remote? What are your biggest productivity tips  for that environment? 
Answer: I'm working in office with my other team members. There are quite a few  advantages for this working mode, especially the work zones establishment. Design  pleasant and quiet spaces in the offices are essential and allow employees to meet  and work as a team, enhancing collaboration when necessary. Besides, an effective communication and the collaborations between teams can be promoted in order to  boost the productivity. 
Marketing: What is your philosophy? 
Answer: As a Talent Acquisition, my philosophy is "Treat others as I want to be  treated". Continuous communication with applicants is important to be successful at  recruiting and retaining talent. In a real-life situation, recognizing the qualities of  others is equivalent to recognizing myself. It is a training that leads me to constantly  grow your ability to notice the potential I have inside. It will helps to contribute to  the joy of people who rediscover their own worth and at the same time, it elevates  my mood. 
Marketing: What's your MBTI? 
Answer: My MBTI is Entertainer.
Marketing: Recommendation time: Is there anything you currently love and want to  share? This can be a podcast, book, tv show, music, activity – you name it! 
Answer: Team building is one of the activities I would like to recommend the most.  Good communication is vital for a high performing team as it can helps break down  the barriers in communication. Through the exercises in a team building, we will  learn more about each other. We will learn strengths, weaknesses, capabilities, and  fears, with these learnings contributing to a deeper relationship and trust amongst  team members.
Thanks for letting us get to know more about you! 
To read more of our Employee Spotlights click here.