If there's one thing you can count on, it's change. As time marches forward, technologies evolve, markets shift, new competitors arise, people come and go. These and other ongoing changes can have substantial impacts to your organization—whether you notice the effects right away or not.
Case in point: let's say your business has expanded internationally and you're getting ready to launch a new line of products. To gear up, your business has undergone a major re-organization to align teams to more effectively support the accelerated growth. As a result of the re-org, your teams are positioned for optimal success, and you're already seeing the results, including increased efficiency and productivity, improved quality, and best of all, skyrocketing revenues.
Your hard re-org work has paid off in spades! Then a year or two goes by, and you lose a few key employees. Their more experienced coworkers take on expanded roles and try to pick up the slack, but now they're falling behind on deliverables and it's taking a lot of time to onboard new employees. People are burning out. Customer complaints are stacking up due to a bug that went out in the latest software release. To complicate matters, your main competitor just released a new product with killer incentives, and suddenly business growth has slowed down. That major re-org you did is quickly becoming obsolete and you're faced with yet another overhaul.
The fact is that rarely do we get things 100% right the first time. And that includes restructuring teams. Taking a continuous improvement approach to organizational design helps you work out the kinks and tackle challenges as they come. Below, I'll share what a continuous improvement cycle looks like when it comes to organizational design, its specific advantages, and some best practices for setting up a continuous feedback loop.
What a continuous improvement approach to organizational design looks like
Major re-orgs take a lot of time and planning. They can be incredibly disruptive, especially to employees who may grow frustrated with upheaval and uncertainty. Furthermore, when you do a major re-org, there are often considerable business problems that have been festering in the background, eroding productivity, efficiency, and often, employee morale.
But a continuous improvement cycle enables you to address business changes and fluctuations incrementally. Rather than waiting to make a major re-org once problems come to a head, your organization evolves with your business. Instead of thinking about your org chart once a year during planning, you're always looking at ways to optimize your teams. You've got listening processes in place. You've established tracking systems. You're checking in with your employees. You're making changes as you go.
Benefits of a continuous improvement cycle
A continuous improvement approach to organizational design offers many benefits, including greater agility, improved productivity, higher quality, better customer satisfaction scores, and happier, more empowered employees.
In fact, empowerment, in my opinion, is one of the most significant benefits of a continuous improvement cycle. Employees who are put into positions that maximize their talents and enable career growth feel more empowered to develop new, innovative, more efficient ways to get work done. You create centers of excellence that foster a growth mindset, where people are invested in the business and believe that the business is invested in them.
How to set up a continuous feedback cycle
Rather than a linear, one-and-done approach, a continuous feedback cycle never ends. The four components—review, identify, plan, and execute—help you make ongoing changes and build centers of excellence.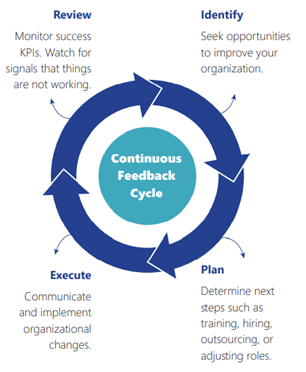 Review: The review phase is all about establishing meaningful KPIs and then tracking against those KPIs regularly—whether that's weekly, monthly, quarterly, or annually. KPIs will vary based on your business but might include revenue, expenses, customer and employee satisfaction, quality, on-time delivery, and more. Based on these KPIs, watch for signals that things are not working as expected.
Identify: By reviewing KPIs regularly, you'll be able to spot issues, patterns, and trends more quickly. By surfacing issues early on, you can identify root causes and mitigate them before they become endemic and cause broad repercussions. By course-correcting along the way, you side-step broader business impacts.
Plan: Once you've identified the issue and the root cause, take steps to get things back on track. Determine the next steps, whether that's training staff members, redistributing or outsourcing workloads, or making updates to internal processes. Circulate your plan to gather feedback and perspective from your leadership team and members of your business unit so that you not only identify gaps and risks but that you receive buy-in.
Execute: Once you've got a plan in place, communicate and implement your changes. Make sure staff members understand why you are making changes and what the expected outcomes are. Continue to solicit their feedback following the changes and update your KPIs if necessary to understand the impact and to learn if you need to modify your plan.
What a continuous improvement approach to organizational design looks like in practice
Going back to our original example, instead of taking a set-it-and-forget-it approach, you've got KPIs in place. You're monitoring team productivity, product quality, customer satisfaction scores, and other desired metrics every month. You're checking in each quarter with employees to understand what's working well and what isn't and balance out their workloads. You're conducting a twice-annual anonymous employee survey to track satisfaction scores and to seek opportunities to improve. As each issue comes up, you tackle it right away. And to your relief, employees are happier and more productive. Your continued efforts are helping your business achieve its goals.
Taking a continuous improvement approach to organizational design sets you up for greater success in the long term. To learn more, please take time to review our white paper: Growing Global Teams: A Best Practice Approach to Organizational Design. Need help scaling and optimizing your team? With 32 delivery centers across five continents, Beyondsoft can help, whether you need business process outsourcing, professional services, consulting, or other support. Please feel free to contact us today.