When operating a contact center, it can be challenging optimizing staffing levels. Too many agents on a shift can eat into profits. Too few can negatively impact the customer experience. And when you're managing staffing levels across multiple, globally distributed contact center partners, the complexity escalates.
Between technical debt inherited from contact center partners, manual forecasting, siloed teams, and suboptimal data access, ensuring the proper staffing levels poses a tremendous challenge for many global organizations. In this article, I'll share four issues global contact centers face and why taking a holistic assessment of your organization is the first step toward improving workforce optimization.
1. Technical debt
As the saying goes, a chain is only as strong as its weakest link. This same concept applies to technical debt. While your organization may be aware of and working to resolve your own technical debt, you have no control over your subcontractors' systems. So if any of your contact center partners are working on legacy systems, their technical debt affects your organization. And when you're working with multiple partners across the globe, technical debt becomes an even bigger problem, impacting data and processes. Therefore, organizations must have a plan to deal with partners' legacy systems and technical debt.
2. Manual forecasting
Manual forecasting is not only inefficient—it's not terribly accurate. Say you have 100 contact centers in 30 countries and centrally forecast the number of staff across the global organization—which is precisely what many organizations are doing. This kind of labor-intensive work involves teams of individuals pouring over spreadsheets to analyze and interpret historical data around call center spikes, outages, and product releases. These teams manually combine these variables to develop forward-looking guidance, which is sent to the call centers to inform staffing levels.
It's a ton of work that uses data that may be heavily influenced by the limitations of partner systems, including technical debt. Cleaning up the technical debt can undoubtedly make forecasting easier. But even better is automating processes to minimize manual work.
3. Siloed teams
All parts of an engine must work to run correctly. When one part breaks or falls out of sync, issues occur. Similarly, team silos substantially reduce efficiency, productivity, and overall effectiveness. Like many contact centers, you likely have several other teams in addition to your workforce forecasting team. For example, you may have a team responsible for interfacing with individual partners, another that monitors partner performance, and another accountable for escalating partner issues. The work of all these teams feeds into accurate forecasting and staffing levels, among other areas.
Yet all too often, these teams work in silos, with ad hoc and inefficient communication between the groups–as depicted in the original customer care structure diagram below. This churn generates extra work cycles to overcome gaps in data sharing and hinders the ability to make informed business decisions. Consolidating these functions—such as in the revised customer care structure diagram below—helps streamline operations and ensure all teams understand the current state, including issues and spikes.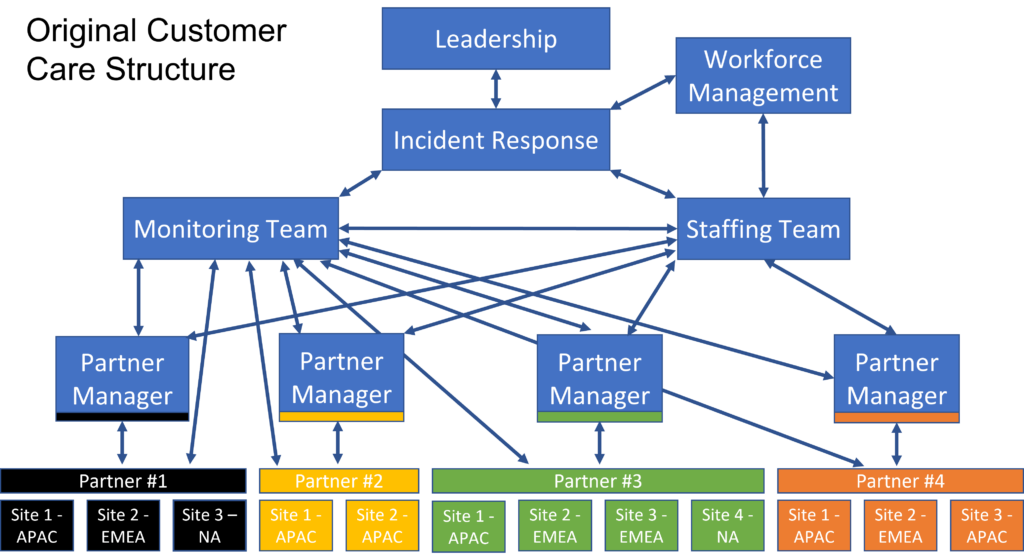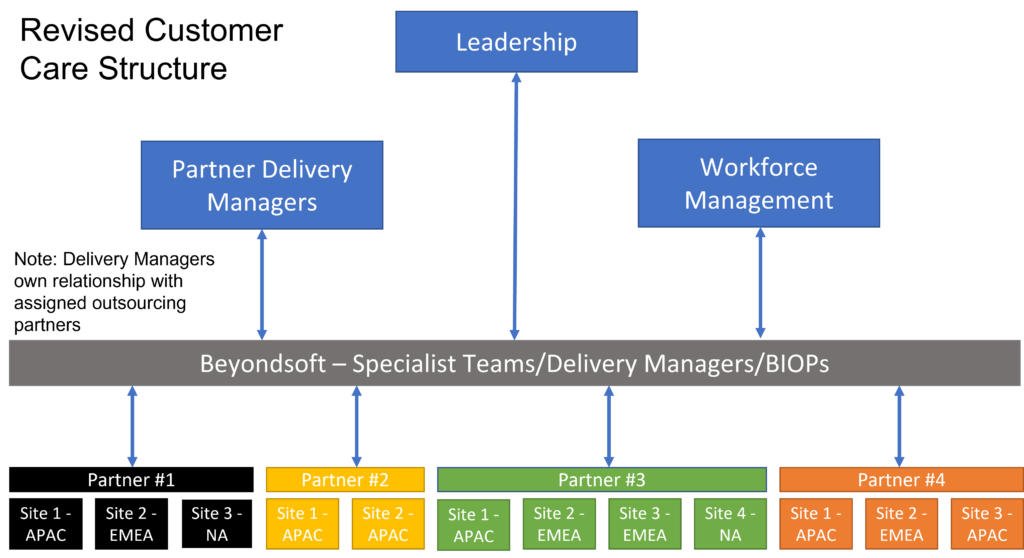 4. Data access issues
Quality data provides the foundation for making better, more accurate, and more timely business decisions. When you have limited access to disparate data on disparate systems, it's hard to get to a single source of truth. As a result, decisions are clunky, requiring manual work to consolidate data across systems. Workforce optimization depends upon the ability to access clean data and derive comprehensive insights across the entire network partner systems. This access can feed into real-time monitoring and surface trends to enable and streamline accurate forecasting.
Solving these issues
Data access, cleanliness, and aggregation
Is data accessible and easy to understand?
Are you using your data to identify issues?
Do you know where your gaps are, and are you addressing them?
Issue identification
Do you have clear business requirements and metrics to monitor?
Are you automating, or do you have a roadmap?
Do you monitor 100% of your business effectively?
Issue resolution
Do you have measurable outcomes and are processes tied to these outcomes?
Do you have issues resolution metrics in place?
Do you have defined processes?
Reporting and processes
Are you learning and continually improving?
Do you analyze resolved issues to identify opportunities for improvement?
Are you combining real-time monitoring and historical reporting to make data-driven decisions?
Assessing and understanding the current state of your global contact center is the first step toward addressing the most common issues impacting workforce optimization. Consider completing this workforce optimization survey, which can give you a high-level view of your data and organizational health.