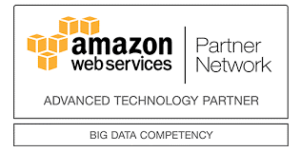 Your trusted Amazon Web Services (AWS) partner
Ready to accelerate your cloud journey? As an AWS Advanced Technology Partner, Beyondsoft has built deep technical expertise in the design, architecture, and implementation of AWS products and services. With more than 50 AWS Certifications, over 100 customer launches, and a growing portfolio of AWS Competencies, Beyondsoft continues to invest in building proficiency to empower our customers' success. Plus, with 300+ AWS-focused engineers and certified professionals, we have the global footprint to deliver AWS consulting services onshore, nearshore, and offshore.
AWS Big Data Competency
As an AWS Big Data Competency Partner, Beyondsoft has demonstrated proven success in helping our customers evolve their data and analytics maturity on the AWS platform. We can help your business evaluate and leverage AWS tools and best practices for collecting, storing, governing, and analyzing data at scale to meet your specific goals.
AWS Data Migration 
Beyondsoft has performed hundreds of data migrations and big data projects for large enterprise customers. As an AWS Data Migration Partner, our certified practitioners have hands-on, best-practice knowledge to deliver the next level of design patterns and architecture to your migration, so that you can leverage the full benefits of the cloud.
AWS DevOps
Over the past ten years Beyondsoft has helped countless companies all over the world expedite release cycles, reduce risk, and streamline processes. As an AWS DevOps Partner, our certified practitioners combine agile AWS tools, best practices, and methodologies along with our BCI DevOps enablement framework to establish an enterprise-scalable CI/CD platform with automated practices to power innovation.
Beyondsoft partners with AWS to offer clients a variety of cloud services
Amazon Managed Streaming for Apache Kafka (MSK)
Create streaming applications without the operational overhead of managing Apache Kafka environment. As an Amazon MSK Partner, Beyondsoft has the expertise to help you plan, migrate, and streamline your data securely and cost-effectively, and establish seamless integration with other AWS services.
Big Data & Analytics on AWS
Beyondsoft provides consulting on highly scalable, platform-agnostic and cost-efficient solutions designed to collect, process, and analyze streaming data in real-time, near real-time and batch, so that businesses can make informed decisions quickly.
Data lakes on AWS
Beyondsoft help clients create data lakes to enable the business value of their structured and unstructured data in a cost-effective and speedy manner using machine learning, predictive analytics, data discovery and profiling.


DevOps using AWS
Beyondsoft offers DevOps transformation, consulting and implementation services to enable DevOps for business efficiency and agility. We have deep expertise in different DevOps products used in the enterprise and how to integrate them together.
Cloud optimization on AWS
Beyondsoft offers cloud cost optimization or technical assessments of your cloud infrastructure.
Application & data migrations to AWS
Beyondsoft helps businesses migrate to the cloud at a lower cost with speed and agility using different discovery tools.
Application modernization on AWS
By combining technologies like containers, microservices and serverless computing with modern development practices, Beyondsoft can make technology as a business enabler.
AWS onboarding/landing zone
Beyondsoft helps customers to quickly set up a secure, optimized, multi-account AWS environment based on AWS best practices.
Professional services on demand
Beyondsoft offers flexible cost-effective and business value-based consulting personalized as per customer requirements.
Cloud native application development on AWS
Using Cloud-native application development, customers can develop their application faster and with better price/performance ratio.
Our experts are waiting to help you with your AWS needs today.